As part of the Empowerment initiative, Growth Is A Journey is honored to share the story of Women's Bean Project and its amazing founder, Josepha "Jossy" Eyre whose generous spirit and legacy will continue to touch lives and be an inspiration to many.
Women's Bean Project is a social enterprise that employs chronically unemployed and impoverished women in a transitional job in gourmet food and handmade jewelry manufacturing. By working in an active business, the women of Women's Bean Project learn basic job readiness, interpersonal and life skills such as reliability, accountability, problem-solving and goal-setting. After seven months, they transition into career entry-level jobs – some for the first time in their lives.
The Women's Bean Project products (e.g. bean soups, chilis, cookie & brownie mixes, bread mixes, salsa & spice rubs, marinades, dip mixes, instant teas, instant meals, organic coffees, popcorns and sweets) can be bought from nearly 1,000 retail and grocery stores in 39 states in the United States, or online including via Amazon.
Since its foundation by Josepha "Jossy" Eyre in 1989, the Denver, Colorado-based Women's Bean Project has helped over a thousand women gain self-sufficiency, and, as per the Women's Bean Project statistics, has positively impacted more than 18,000 lives by striving to break the seemingly endless cycle of recidivism, unemployment and poverty. A glimpse of the program is shown below:
95: Percent of women who are employed one year after graduating from the program. This is based on the responses of women from a 12-month follow-up.
62: The average number of women hired each year.
60+: Number of hours each woman spends in a core curriculum of five classes: Financial Literacy, Computer Literacy, GED Coursework, Dress for Success and Group Therapeutic Workshops. Women also attend numerous additional programming courses.
50+: Number of hours each woman receives in career services training, working 1-on-1 with a job search coach and attending computer lab and other workshops.
Weekly case management and job coaching.
In Loving Memory of "Jossy" Eyre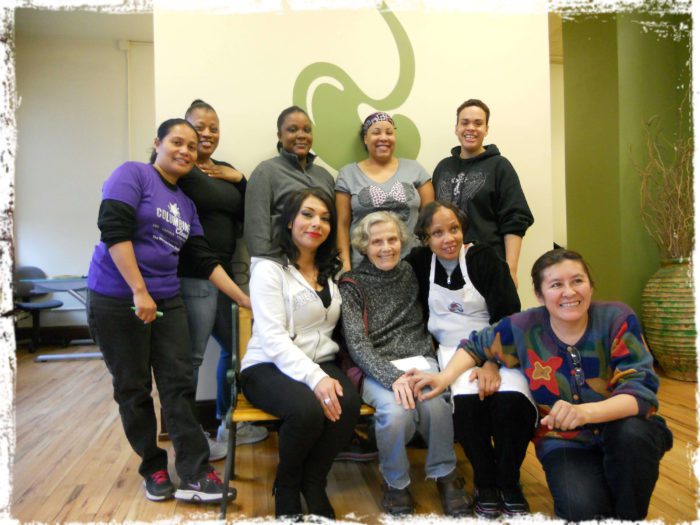 The founder of Women's Bean Project, "Jossy" Eyre was a child who at a very young age witnessed the dark side of humanity in Nazi-occupied Holland during World War II. She lost siblings and her family home during a bombing raid, she faced famine and lived in terror. Eventually, her family fled to the United States.
"That loss, plus the war experience, gave me a sense that things weren't right with my world," Jossy wrote in a 1994 Chicago Tribune story. "That was a major influence why I decided to work with women who are disenfranchised."
In the United States, Jossy Eyre became a nurse and was headed west to California, when she fell in love with Denver, where she stopped after passing through a traumatizing snowstorm in Kansas.
In her 50s, with all four of her children out of the house, Jossy went back to school, earning a master's degree in social work. She volunteered at a homeless shelter for women and kids, where she observed how the same women were returning again and again.
With her own memories of helplessness, Jossy envisioned a place where women who don't feel as though they have a lot of control over their lives, get help and start getting a sense of control. "That was something she could very much relate to," as per Tamra Ryan, CEO of Women's Bean Project. "She was driven by this idea that if she could teach the women by actually doing, that would give them the ability to change the trajectory of their lives."
In 1989, Jossy Erye used $500 of her own money to establish the Project beginning with one staff member, two program participants, and three soup products. In one of Jossy's talks to university students, Jossy shared some of her fond memories of those early times: "We had a very caring atmosphere — people working together, people learning together, people being supported together and trying to help them to ease their way into the mainstream. One of the ways we did that was to take them when we had opportunities to sell the products. At first, they didn't like the idea at all, but when they found out that the products of their hands had monetary value, they started to believe in themselves a little bit more."
"When she started the organization, Jossy never imagined it to be what it is today, she was merely looking for a way to help women gain a sense of empowerment over their circumstances by learning the skills of working by actually making a product" noted Tamra Ryan.
Jossy is remembered as someone who truly walked the walk – "We all look around and see things we don't like, but not all of us do something about. And that to me is the thing that defines Jossy. We honor her legacy every day when we go to work" Tamra Ryan noted.
At age 89, Josepha "Jossy" Eyre passed away in April 2020 due to complications of COVID-19.
To read real stories about how Women's Bean Project changed lives: https://www.womensbeanproject.com/stories/
To order Women's Bean Project products: https://www.womensbeanproject.com/shop/
(Article and picture published with the permission of Women's Bean Project)